Skin imperfections are part of life but when you're a celebrity, public figure, and to some degrees an influcencer, the pressure to maintain a flawless complexion is higher than ever. Getting that radiant glow in front of the camera is compromised when we're suffering from a skin condition like eczema, psoriasis, or rosacea to name a few examples. Did you know that celebrities like Bill Clinton, Prince William, Princess Diana, Cynthia Nixon and Cameron Diaz experience rosacea to varying degrees? In fact, Cynthia Nixon is the current spokesperson for the National Rosacea Society!
Even small flare ups of the skin can be very bothersome really affect your desire to socialize and take part in life in a meaningful way. Proper management of skin conditions has without a doubt an extensive effect on self-confidence and our personal lives. Insofar as treatment of skin conditions go, many people look to pharmaceuticals or perscription topical products to help manage outbreaks. However, premium dietary supplements should not be overlooked. Today we're going to examine marine collagen peptides as an effective management tool for skin conditions and the aspects of this superfood that make it a compelling addition to your treatment plan.
Roscea: What is it and how can Marine Collagen help?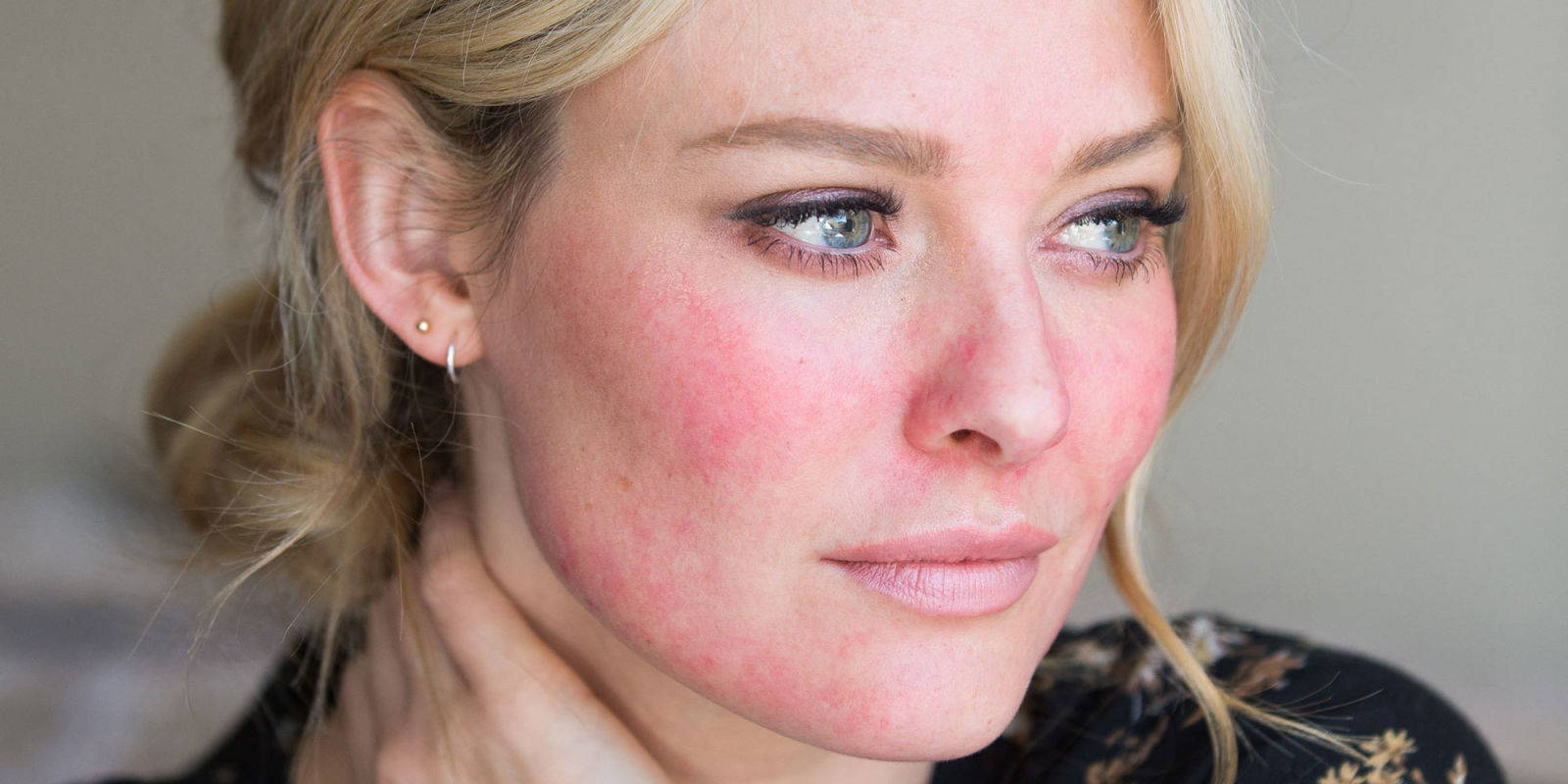 Scientifically, rosacea can be classified into four subtypes. However, a central paradox to explain the diverse clinical expressions of rosacea remains mysterious. Although, a popular theory attributes the prominent facial flushing seen in many rosacea patients to abnormalities in cutaneous vascular homeostasis.
Sufferers of rosacea often experience an increase in the baseline blood flow to the face that results in flushing. In addition, larger, more numerous, and nearer to the surface vessels play a principal role in appearance of redness that are most noticeable in those that suffer from this skin condition.
Further evidence connects the role of connective tissue degradation in the pathogenesis of rosacea. Some studies suggest a primary role of damaged connective tissue in inducing vascular pathology, where poor connective tissue supporting cutaneous vessels results in the pooling of serum, inflammatory mediators, and metabolic wastes. This delays clearance of inflammatory cells. Soluble mediators and cellular degradation products result in prolonged inflammation and tissue damage (1).
Collagen has become a buzzword in the realm of skincare & beauty and it's increasingly obtaining interest for its positive anti-aging effects on the skin; whether for its ability to reduce visible signs of aging or act as a hydrating agent or for its photo-protection effects.
A skin condition like Rosacea requires the replacement of damaged connective tissue "collagen and elastin", as an intact connective tissue ensuring an intact vessel that can efficiently do its work.
Marine collagen, with its low molecular weight and small particle size, is highly digestible in humans and is absorbed and distributed efficiently into the dermis, the deepest layer of the skin. Here, collagen can stimulate the proliferation and motility of fibroblasts, thus stimulating the production of new collagen and elastin in the skin (2).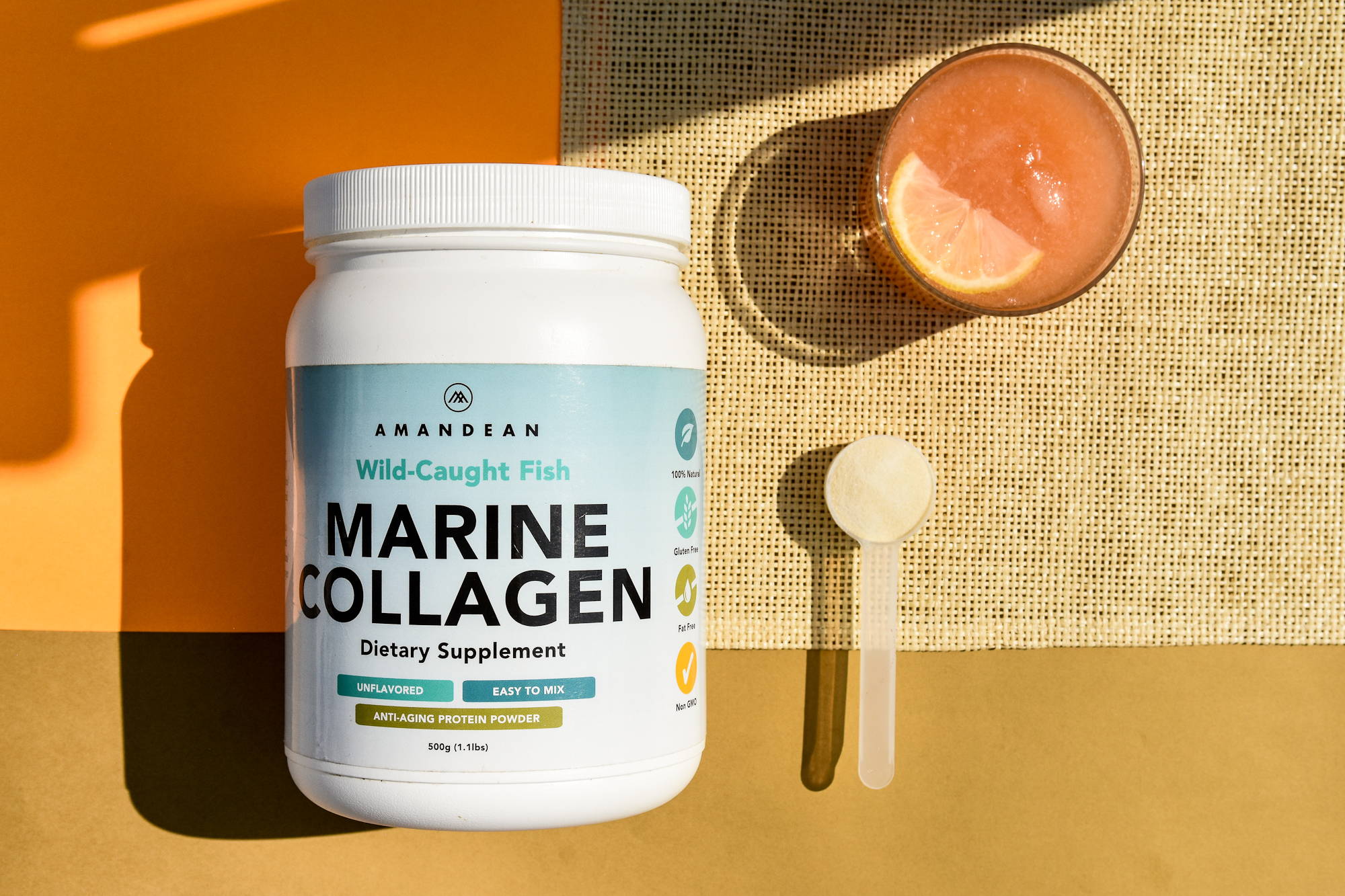 In conclusion, including marine collagen supplements as a way to help manage rosacea can be a very effective way of controlling the underlying mechanisms by which this condition develops. It well worth incorporating into your skin treatment regime when it comes to enhancing your complexion, as there is a shortage of products available that can help improve rosacea.
Eczema & Skin Hydration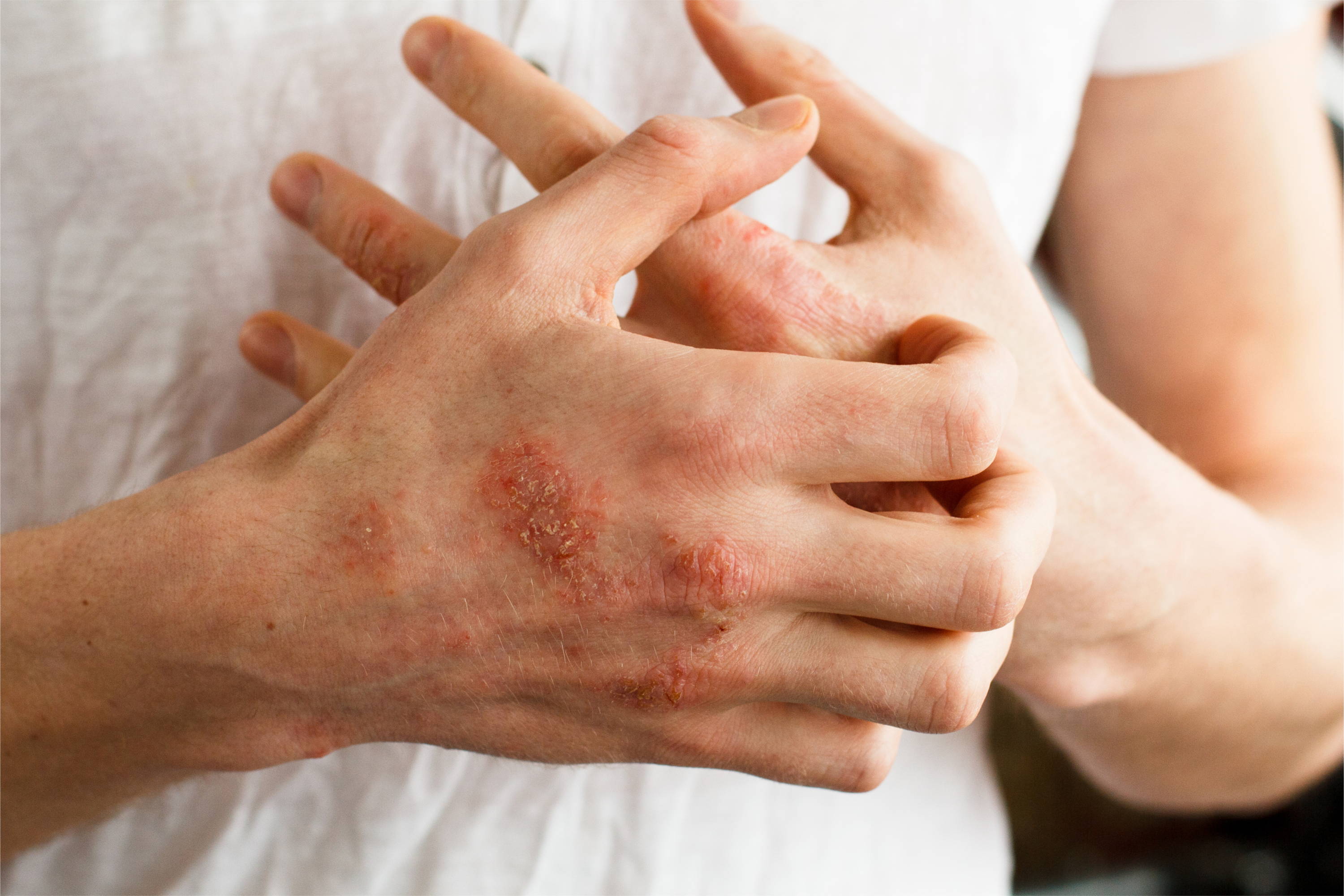 Eczema is a skin condition related to the dysfunction in skin barrier elements, which eventually leads to an increase in trans-epidermal water loss TEWL, pH alterations, and dehydration that manifests as erythema and pruritus. Although there is another aspect of this condition related to inflammatory reaction and immune dysfunction, targeting skin hydration remains one of the most effective, safest and handled methods of keeping eczema under control.
A reproducible study investigated the effect of oral supplementation with marine collagen peptides on skin hydration and the dermal collagen network found that marine collagen peptides taken orally significantly increased skin hydration after 8 weeks of intake. The collagen density in the dermis significantly increased and the fragmentation of the dermal collagen network significantly decreased after 4 weeks. The study concluded that radioactively labeled collagen peptides had reached the skin and were retained in the tissue for up to 2 weeks. (Don't panic! "radioactively labeled collagen peptides" is a purely laboratory technique, where collagen peptides are handled in a specific way to become radioactive so as to trace the path they follow in the body and noway to be introduced as a supplement for consumers (3,4).
Collagen peptides were also shown to increase hyaluronic acid production in dermal fibroblasts and improve skin barrier function by increasing the water content of the stratum corneum; the layer that has received significant scientific interest recently in the study of atopic dermatitis "eczema". Until recently, the stratum corneum was relatively ignored as a factor in the development of atopic dermatitis, but it was found that this layer prevents water loss and provides a barrier to epidermal invasion of allergens and bacteria which is considered critical in characterizing atopic dermatitis (5).
Managing Psoriasis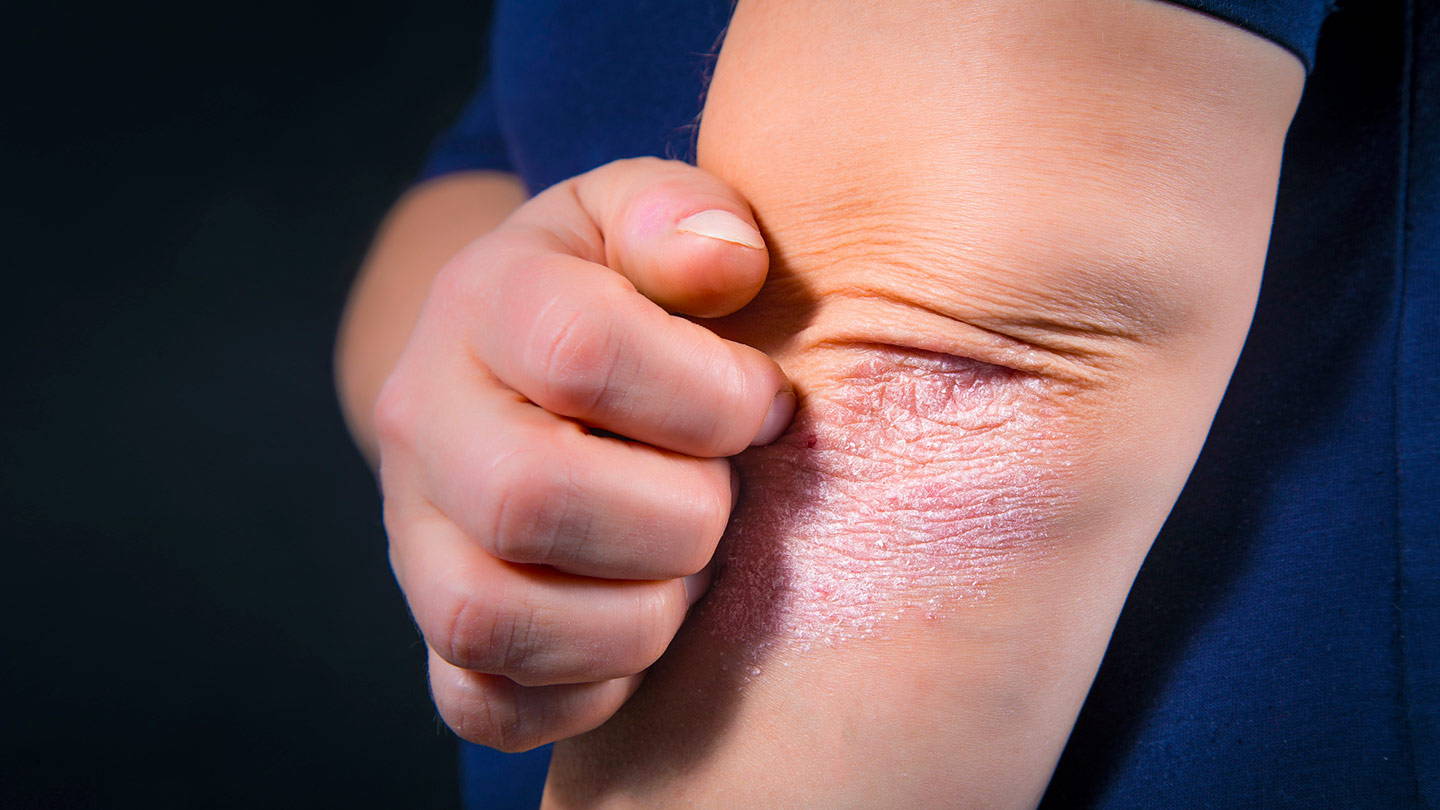 Personally, I have met a psoriatic patient in a dermatological clinic before he underwent a phototherapy session and he told me how hard it is living with psoriasis and what a profound impact it has on his social relationships. Besides suffering from a hard commitment to treatment protocols even though the procedure itself is pain-free he was obligated to visit the clinic every other day to undergo a phototherapy session. Actually, he made me thankful for my comparatively minor skin sensitivity that brings me to visit the same dermatological clinic he was at.
Listening to his experience was fascinating. He must have read tons of information about psoriasis- after all, we are in the era of accessible information. He told me that his mother has had psoriasis and he developed it after her death. It was obvious that his condition had a hereditary aspect but often the condition becomes more severe after particularly stressful periods in life (6). He also disclosed that he used to suffer from redness and was covered with silvery-white scales on his scalp, elbows and the surface of his hands. He had tried different strategies for managing his symptoms and condition via the advice of his doctor including emollients, topical steroids, oral methotrexate tablets, until finally he was prescribed phototherapy to help ameliorate the appearance of his skin, for which the treatment did improve. Overtime, he's realized that there is no cure for his condition but proper daily management can largely improve the appearance of bothersome scales. Lately, he's begun to notice that his skin is much more hydrated and smoother and that his itchy scales are less visible than before. Why the change? He began taking a marine collagen supplement to help with his painful joints, (unfortunately, psoriasis can cause joint pain also), and he's also felt the positive effects in managing his skin condition. This makes sense, especially due to the fact that marine collagen has been shown to hydrate the skin which is very helpful in skin conditions like psoriasis as hydrated skin is less able to become itchy or scaly.
So if marine collagen can be effective in managing skin conditions, what brand should you choose?
We recommend Amandean's Wild-Caught Maine Collagen. You can purchase the Amandean brand as both individual stick packs with 11g per serving OR in a 500g container. Amandean's marine collagen is made from wild-caught cod from the pristine waters of the North Atlantic, not from farm-raised fish that are packed full of hormones and antibiotics.
Furthermore, Amandean's fish collagen peptides are hydrolyzed to as low as a 3000 Dalton molecular weight for maximum bioavailability in humans and they offer the best solubility on the market. The product is also non-GMO, soy-free, gluten-free, and fat-free making it an ideal compliment to Ketogenic, Paleo, Whole30, and low carb diets.  
In conclusion, with a wide variety of skin conditions manifestations and causes, skin hydration can profoundly help ameliorate symptoms as well as assist in managing the overall condition in the long-term. With marine collagen, you can be sure that your skin is being adequately hydrated.
Get Started With Amandean's Wild-Caught Marine Collagen For Managing Skin Conditions & Better Skin Hydration Today!
Article References
0.1016/j.jaad.2004.03.030

Sibilla, S., Godfrey, M., Brewer, S., Budh-Raja, A., & Genovese, L. (2015). An Overview of the Beneficial Effects of Hydrolysed Collagen as a Nutraceutical on Skin Properties: Scientific Background and Clinical Studies. The Open Nutraceuticals Journal, 8(1), 29-42. doi: 10.2174/1876396001508010029

Asserin, J., Lati, E., Shioya, T., & Prawitt, J. (2015). The effect of oral collagen peptide supplementation on skin moisture and the dermal collagen network: evidence from anex vivomodel and randomized, placebo-controlled clinical trials. Journal Of Cosmetic Dermatology, 14(4), 291-301. doi: 10.1111/jocd.12174

Rennie M (1999). "An introduction to the use of tracers in nutrition and metabolism". Proc Nutr Soc. 58 (4): 935–44. doi:10.1017/S002966519900124x

Hogan, M., Peele, K., & Wilson, N. (2012). Skin Barrier Function and Its Importance at the Start of the Atopic March. Journal Of Allergy, 2012, 1-7. doi: 10.1155/2012/901940

De Rie, M., Goedkoop, A., & Bos, J. (2004). Overview of psoriasis. Dermatologic Therapy, 17(5), 341-349. doi: 10.1046/j.1524-4725.2002.01190.x-i1