Swimming is my favorite form of exercise However, being a recreational swimmer doesn't at all resemble the level of commitment or hours of training it takes to be a competitive champion at this sport; or at any sport for that matter. As a hobby, I may go for swimming one or two days a week, spending 1-2 hours per session in the pool, but as competitors, swimmers may spend between 2-3 hours per training session in the pool and do this more than 4 times weekly. For myself, it's exhausting just thinking about it, so imagine the energy output it takes for a swimmer competing at a high level.
For competitive and non-competitive athletes, diet is an essential part of performing your best, and being able to train consistently without sickness or injury. Moreover, sometimes whole foods are simply not enough to maintain the body's nutrients at a level that can sustain such a rigorous level of physical activity...day after day, and week after week. Most of the time, fueling your body as a competitive athlete means proper supplementation alongside excellent whole food nutrition. This can include vitamins as well as pre and post-workout supplements for energy and recovery. Today, we're going to focus in on Marine Collagen in particular as an optimal pre-workout supplement for avid and/or competitive swimmers.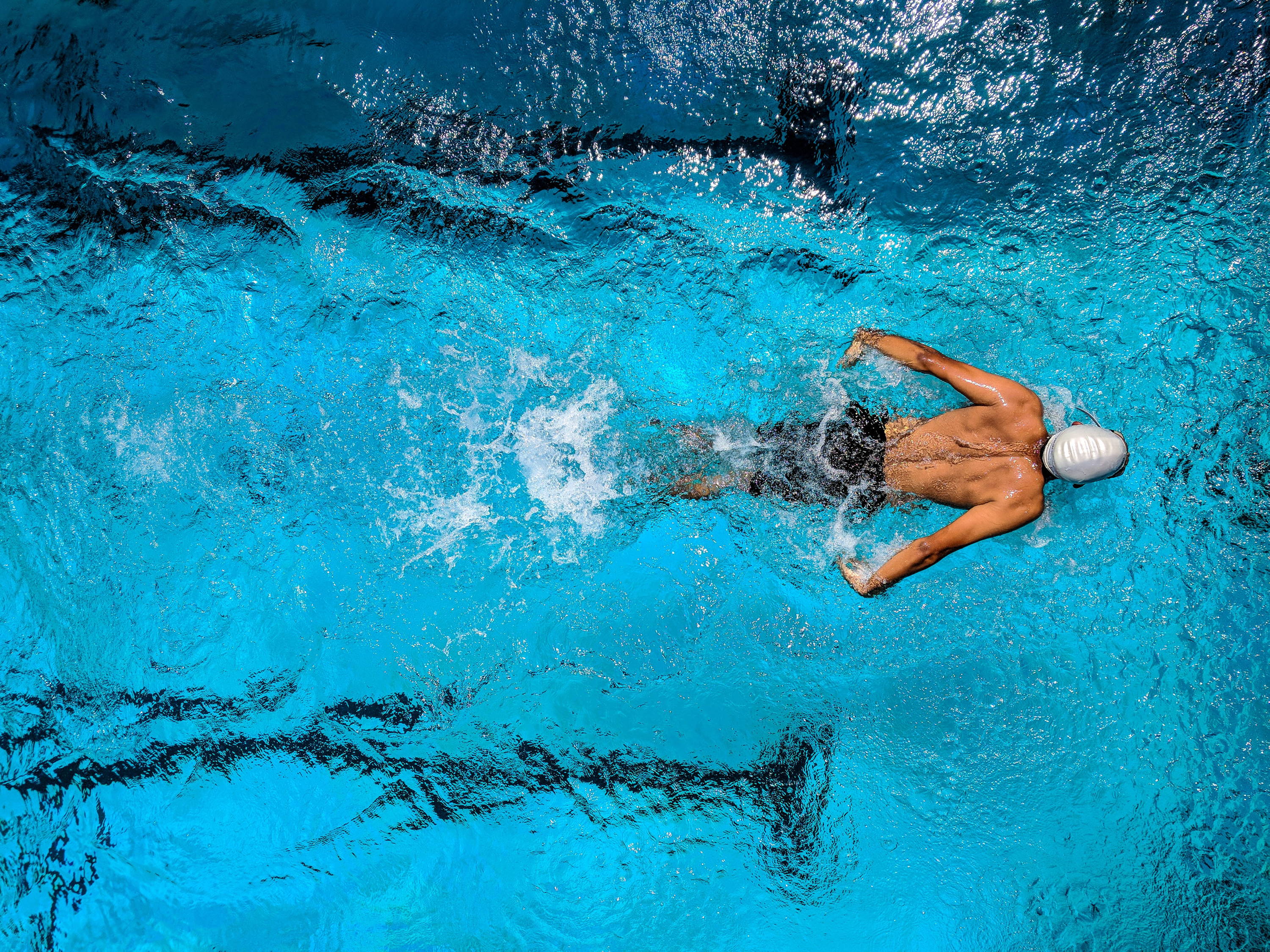 Personally, I've been a fan of Marine Collagen powder for several years due to the impressive effects it's had on my skin. The type 1 collagen in a marine source of collagen powder helps to restore the elasticity in the skin and can also help to reduce the appearance of scars and wrinkles.(1) Needless, to say I've seen a big difference and I'm a loyal user of this all-natural super nutrition. I take it daily. Furthermore, as a pharmacologist, I've read many scientific papers discussing the effectiveness of Marine Collagen on the skin, which also pointed to their effectiveness as a pre-workout supplement. Taken on its own unaccompanied by a proper diet, Marine Collagen may not be sufficient, however taken in conjunction with optimal nutrition, this supplement has a unique mechanism of action. So, if you are a swimmer interested in consuming a safe pre-workout supplement, here's some information you might want to consider. Keep reading!  
What makes a pre-workout supplement an important part of a swimmer's routine?
Any good pre-workout supplement is meant to increase both mental focus and muscular strength, which are both critical when swimming at a competitive level. In fact, an effective pre-workout supplement is important both for quality training and during the competition season. Physical recovery during the competitive season is very critical to swimmers as the speed of recovery may be the determining factor in performance and speed over multiple events (often in the same day). In swimming, similar to other timed sports, the difference between the gold medal and the bronze can be fractions of a second. As the saying goes, "If you want to know the worth of a second, ask an Olympic athlete". So, any supplement that supports a faster recovery for a swimmer is critical period between events would be desirable, especially at a competitive level. This begs the question, "How does training affect your body and why is there a need for a pre-workout supplement ?"
How does intensive training affect your body?
Normally, consistent and moderate dynamic physical activity causes the chondrocytes (cartilage cells) to produce anti-inflammatory cytokines that eventually lead to the production of collagen type II that are present in cartilage, tendons, ligaments, and bones. By contrast, strenuous training that takes place in the competitive season causes chondrocytes to break down collagen, which can result in chronically painful and stiff joints; the hallmark of the inflammatory process.
A randomized, double-blind, placebo-controlled study tested the effect of collagen supplement on healthy people who had undergone strenuous training that lead to pain and stiffness in their joints and results overwhelmingly showed that a collagen supplement relieved joint pain. In the study authors concluded that daily supplementation of collagen improved knee joint extension and alleviated the joint pain that occasionally arises from such training (2).
Why choose collagen as your first choice as a pre-workout supplement?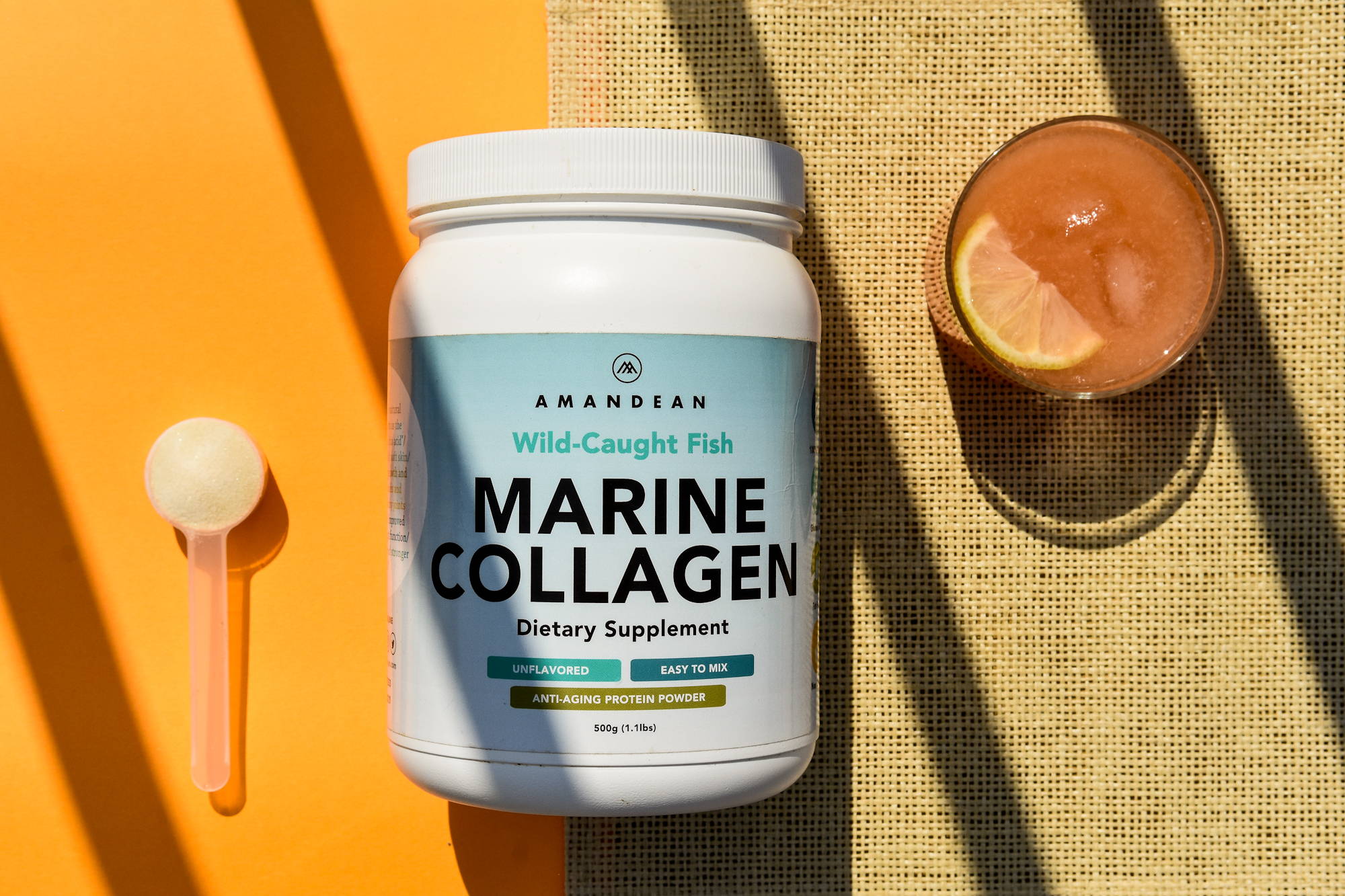 Common pre-workout supplements for athletes include collagen, caffeine, creatine, β-alanine, anti-oxidants, vitamins, and multiple others. Any swimmer familiar with these supplements knows that these nutrients are all naturally occurring in the human body, except for caffeine, which contains a different bevy of benefits and side-effects to be aware of as an athlete.
As for collagen, it is the body's most abundant protein found in connective tissue, skin, tendons, cartilage, ligaments, cornea, teeth, nails and hair. When we are young, collagen production and degradation are in dynamic balance, but as we get older and during maturation of tissues, degradation is more intensive. Adding the effects of strenuous training into the mix leads to further collagen depletion in the body, making it even more necessary to supplement. (3).
The rationale behind supplementing with collagen (especially collagen from a marine source) is that it will provide the amino acid building blocks, as well as the essential co-factor to promote greater collagen synthesis.
It is evident that consuming collagen hydrolysate improves cartilage function through increasing cartilage thickness (4).
Furthermore, a specific study conducted to investigate the effects of collagen supplements on athletes' joint pain that was held at an Olympic training site concluded that 78% of the subjects included in this study reported improved symptoms with reduction of pain in movement within 12-weeks of beginning hydrolyzed collagen supplementation (5).
We can conclude from all available data about the proven effectiveness of hydrolyzed collagen in relieving joint pain from training and strengthening joints with approved long-term tolerability by consumers and safety, our advice makes sense to consider. This is why a premium collagen supplement should be one of your first choices for a pre and post-workout supplement.
What kind of collagen supplement should I buy?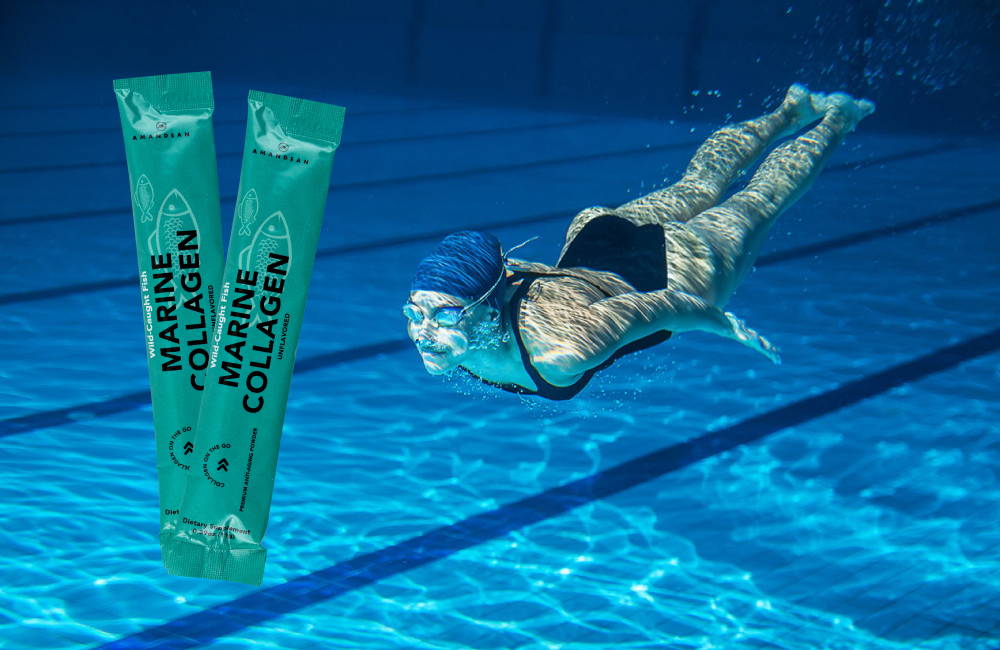 To enjoy maximum benefits from your collagen supplement, you should opt for a premium variety with only the best ingredients from a brand and source you can trust.
Getting the most value from your collagen as a swimmer means that you need to consider the quality and purity of ingredients, ensuring that the product is non-GMO, and untainted by chemical processes or preservatives.
You'll also want to ensure you choose a highly bioavailable collagen, which is why I would recommend Marine Collagen over collagen from a bovine or porcine source. Marine collagen is considered to be the most bioavailable source of collagen in humans (up to 1.5% more than beef collagen) due to its smaller molecular weight and particle size (6).
Furthermore, as an athlete, you should consider a collagen supplement that is versatile and easy to incorporate into your daily diet. This means a collagen that is unflavored and odorless with high solubility. Being able to mix a scoop of collagen into your pre or post workout smoothie or add to your favorite snacks is key to taking it consistently and making certain your body is able to utilize the collagen effectively.
In summary, competitive endurance sports like swimming demand that we consider carefully the quality and effectiveness of supplementation and that we make recovery a priority. A premium Marine Collagen supplement offers the pre & post-workout nutrition that swimmers require to endure long competitive seasons, rigorous year-round training, and to speed up their recovery times between events and training sessions.
Consider Amandean's Premium Wild-Caught Marine Collagen when selecting your collagen supplement and read more about this ideal nutrition for athletes by visiting our online shop.
Try Amandean's Premium Wild-Caught Marine Collagen For Your Pre & Post-Workout Nutrition Today.
Article References
Effects of marine collagen peptide on delaying the skin aging, Department of Food and Nutritional Hygiene, School of Public Health, Beijing University, Beijing 100083, China. https://www.ncbi.nlm.nih.gov/pubmed/18763632

Lugo, J., Saiyed, Z., Lau, F., Molina, J., Pakdaman, M., Shamie, A., & Udani, J. (2013). Undenatured type II collagen (UC-II®) for joint support: a randomized, double-blind, placebo-controlled study in healthy volunteers. Journal Of The International Society Of Sports Nutrition, 10(1), 48. doi: 10.1186/1550-2783-10-48

Turkiewicz, M. (2009). COLLAGEN HYDROLYSATES AS A NEW DIET SUPPLEMENT. Food Chemistry And Biotechnology, 73(1058), 83-92.

Heaton, L., Davis, J., Rawson, E., Nuccio, R., Witard, O., & Stein, K. et al. (2017). Selected In-Season Nutritional Strategies to Enhance Recovery for Team Sport Athletes: A Practical Overview. Sports Medicine, 47(11), 2201-2218. doi: 10.1007/s40279-017-0759-2

Clark, K., Sebastianelli, W., Flechsenhar, K., Aukermann, D., Meza, F., & Millard, R. et al. (2008). 24-Week study on the use of collagen hydrolysate as a dietary supplement in athletes with activity-related joint pain. Current Medical Research And Opinion, 24(5), 1485-1496. doi: 10.1185/030079908x291967

Sripriya, R. and Kumar, R. (2015). A Novel Enzymatic Method for Preparation and Characterization of Collagen Film from Swim Bladder of Fish Rohu (<i>Labeo rohita</i>). Food and Nutrition Sciences, 06(15), pp.1468-1478.